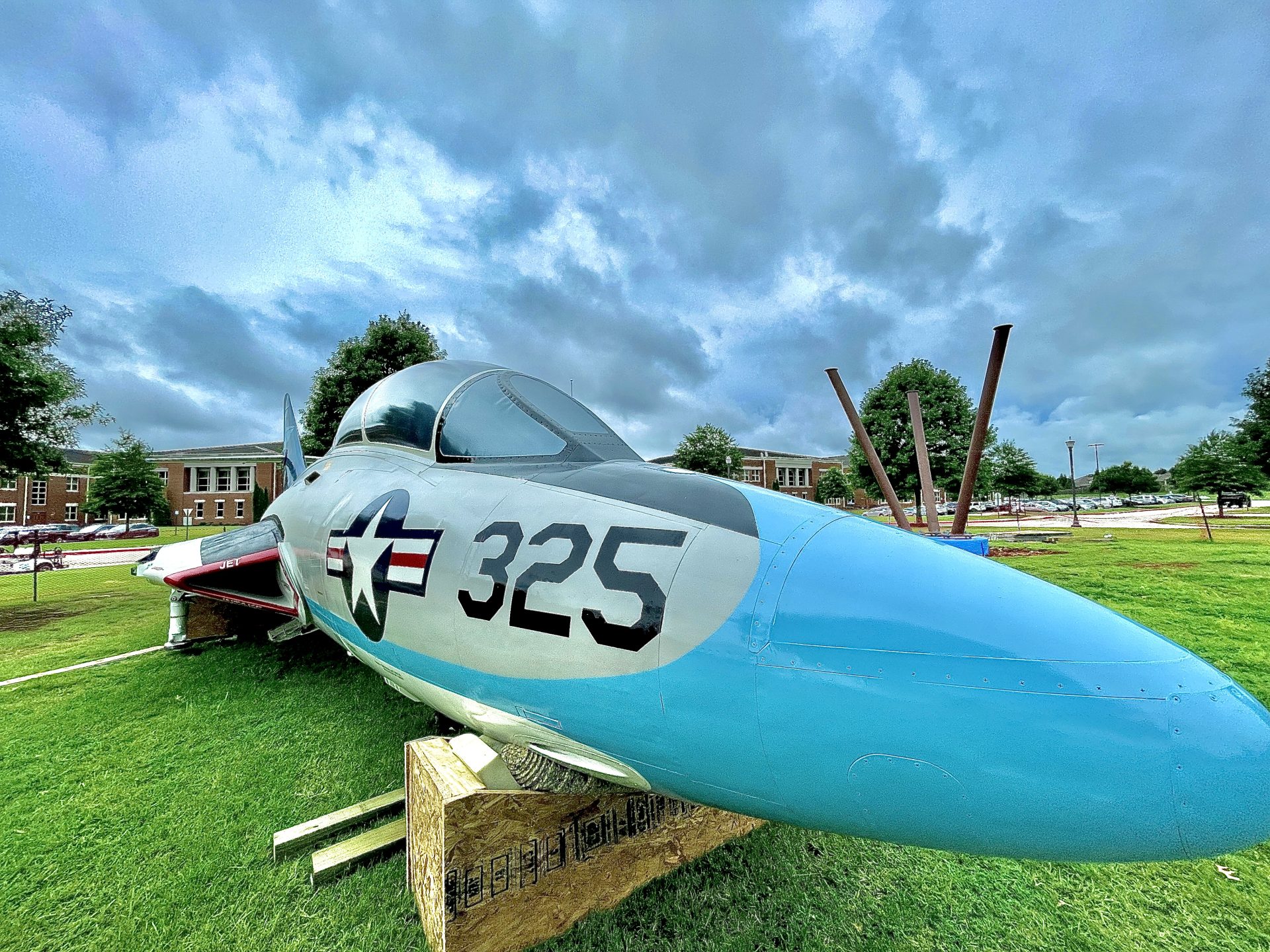 Madison, AL – August 15, 2023  – The Highland Group, in collaboration with NOLA VanPeursem Architects and Madison City Schools, is thrilled to announce the unveiling of a refurbished TF-9J fighter jet at James Clemens High School on September 14, 2023. This historic project, which has seen the transformation of a Vietnam War era flight trainer jet into the school's mascot, will be revealed to the public at a special event following their homecoming parade.
The TF-9J, formerly recognized as the F9F-8T, has a rich history spanning back to the Vietnam War era. It engaged in combat and, it played a crucial role as an advanced flight trainer. Notably, this iconic aircraft was also a part of the esteemed flying squadron of the Navy, the Blue Angels. Adding to its remarkable journey, in 2014, this historical marvel found a new home when it was acquired by the City of Madison Board of Education on loan from the U.S. Naval Aviation Museum.
The jet has since undergone extensive refurbishment, led by master craftsman Randy Beavers, with the support of James Clemens High School's junior ROTC members, shop students, and many others throughout the years. This project, driven by the community's passion for aeronautics and education, was made possible by support from Northrop Grumman and numerous community donors.
As James Clemens High School enters the final phase of this project, a second donor drive has been launched. Community members and businesses are encouraged to contribute and leave their mark on this commemorative endeavor with donation options beginning at $50. To become a legacy donor, visit the Madison City Schools' page at https://madisoncityk12-al.leanstreamrp.com/district/need/354.
The unveiling event is set to take place immediately following the James Clemens High School homecoming parade (beginning at 5:00 PM) on Thursday, September 14th, with the grand reveal of the refurbished TF-9J mascot expected around 6:00 PM. All are invited to join in celebrating this significant milestone and witness a piece of history come to life at the school.
This initiative forms part of an ongoing series of enhancements at James Clemens High School, which includes significant upgrades to the athletic facilities, football fields, track area, and baseball and softball complexes. Another major project underway is the construction of a cutting-edge indoor practice facility. Spanning an impressive 10,000 square feet, this facility aims to provide a year-round, climate-controlled training environment for our student-athletes, complete with indoor batting cages and locker rooms. 
For more information regarding the unveiling, please visit the James Clemens High School website (https://www.madisoncity.k12.al.us/jchs). Their campus is located at 11306 County Line Rd, Madison, Alabama 35756. For more information about The Highland Group projects, please visit www.highlandgroup.org.  
####
The Highland Group is a real estate development and commercial construction firm that specializes in real estate development, preconstruction services, general contracting, construction management, and design-build delivery. Their mission is to develop leaders committed to higher standards who have an impact on their firm and the communities in which they work and live by developing trusting relationships and building quality projects. The Highland Group has offices located in the Gulf Coast Region (501 South McKenzie Street, Suite 2, Foley, Alabama, 36535), the Tennessee Valley Region (1300 Meridian St N Suite 300, Huntsville, Alabama, 35801), and the Florida Panhandle Region (130 Richard Jackson Blvd., Suite 104A, Panama City Beach, Florida, 32407). They have been proudly serving clients throughout the Southeastern United States since 2005. Learn more at www.HighlandGroup.org
James Clemens High school is a public high school in Madison, Alabama and is the second high school to be built as part of Madison City Schools. The school is named after the founder of Madison County, James Clemens. Established in 2012, the school offers access to over 70 organizations to its student body including their extensive music and athletic programs. Clemens' has over 2,100 students in attendance including their marching band consisting of over 150 students, the schools' JROTC Jet Battalion has over 100 cadets enrolled, and its various athletic programs are filled with award winning student athletes as well as coaches. For more general information on the school, visit here.  
Madison City Schools is in the thriving suburb of Madison just west of Huntsville, AL, serving students from both Madison and Triana. The 2022 State Department of Education report cards gave the District and all schools an A. Madison City Schools was one of only five districts out of 137 school systems statewide to receive all A's.
MCS is the 12th largest school district in Alabama with 2022 enrollment exceeding 12,400 students spread across two 9-12 high schools, two 6-8 middle schools, seven K-5 elementary schools, RISE Academy alternative school on the campus of James Clemens High School, and a Pre-K program on the campus of Rainbow Elementary. A third middle school is scheduled to open in 2023, a PreK Center is in the works, and the Board of Education recently purchased the land to build an eighth elementary school within the next several years. Enrollment has been steadily growing 300-400 students per year. To learn more visit here.
Nola | VanPeursem Architects, a talented team dedicated to top-notch design and customer service, offers a diverse range of practice areas including education, healthcare, retail, aviation, residential, and historic preservation. Based in North Alabama, they focus on creating community-centered environments, fostering long-term relationships with public and private sector clients. To learn more visit their website here.
 Northrop Grumman is a leading global aerospace and defense technology company. Their pioneering solutions equip our customers with the capabilities they need to connect and protect the world, and push the boundaries of human exploration across the universe. Driven by a shared purpose to solve their customers' toughest problems,their 95,000 employees define possible every day. To learn more about Northrop Grumman visit their website here.  
Media Contacts
Press Release: 
Lindsay Schumacher (The Highland Group)
lindsay@lschumacherconsulting.com
General Project Information:
Lee Shaw (Madison City Schools)